Guidance, examples + templates for your budget planning
Planning marketing spend is an annually recurring task. We in the GROW team also plan the marketing goals, measures and budgets for the following year from the end of Q3 at the latest. In the budget planning file, we forecast which marketing measures are necessary to achieve the company's goals and what financial resources need to be set aside for them.
In this guidebook, GROW specialists share their knowledge from many years of marketing. Look forward to tips, calculation formulas, examples and practical templates for your budget planning. This way you can calculate a budget that perfectly fits your goals.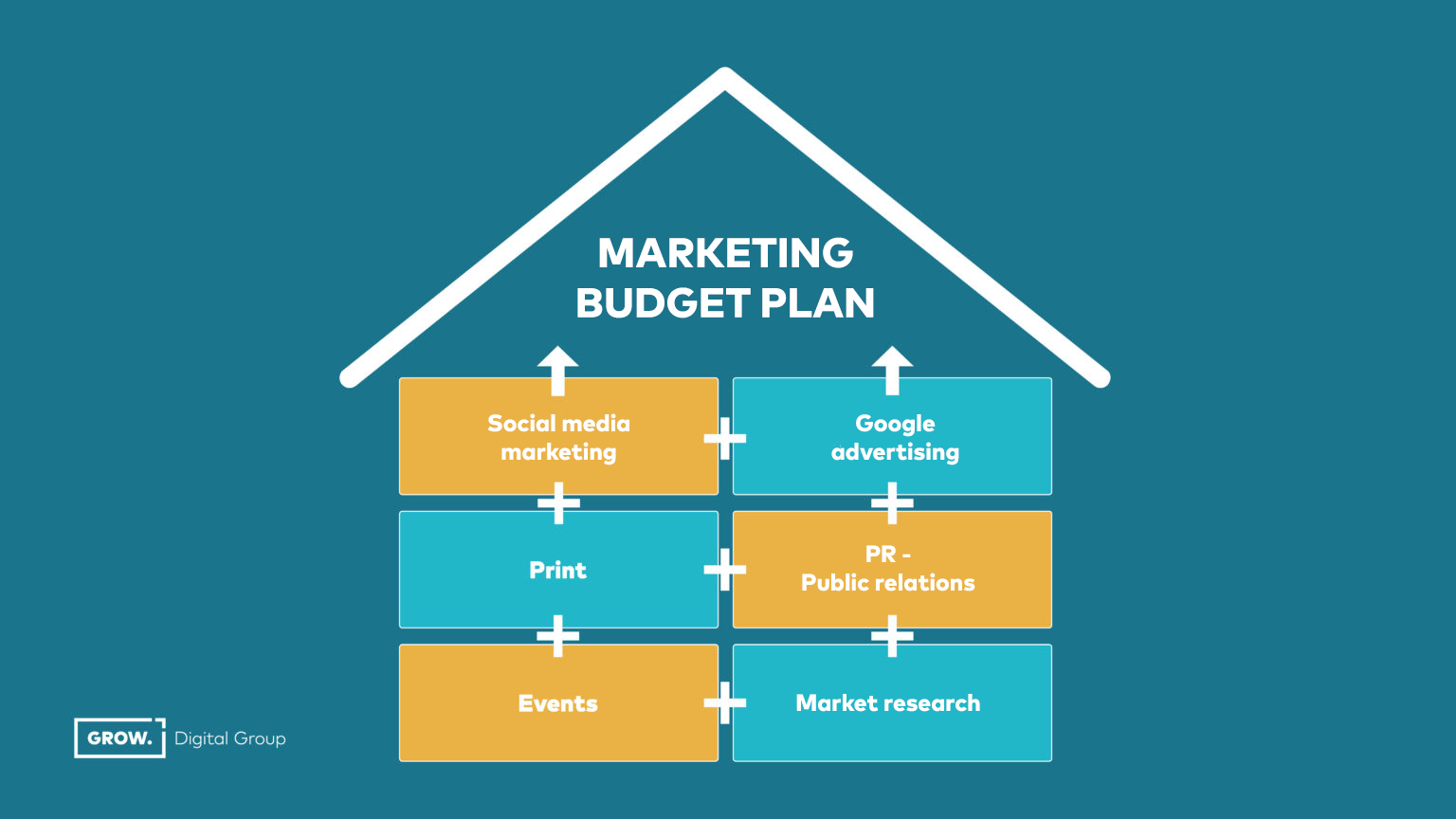 Marketing Budget Planning Introduction
To get started, we explain the basic approach to planning marketing investments. If you already have experience with budgeting, you can take a reading shortcut::
Jump directly to the section:
Why the budget plan is useful
Far too often, the marketing budget is only roughly estimated. Marketing opportunities are seized spontaneously and spending decisions are made ad hoc. This may go well for a while, but when profits, successes and customers fail to materialize, the question arises: "How can we secure profitability and thus the future of the company?" And then solid marketing planning can be essential for survival! What marketing executives say about budget planning:
``We evaluate new marketing opportunities individually. If we believe in measurable positive ROI, we don't invest otherwise. Marketing budgets and year-over-year comparisons don't exist. I only forecast costs 1x per year for planning purposes, but have deviated from that at any time when it makes sense.``
Fritz L. - Marketing CF of a German performance agency
In young companies, the marketing budget is often only roughly planned as the following quote shows: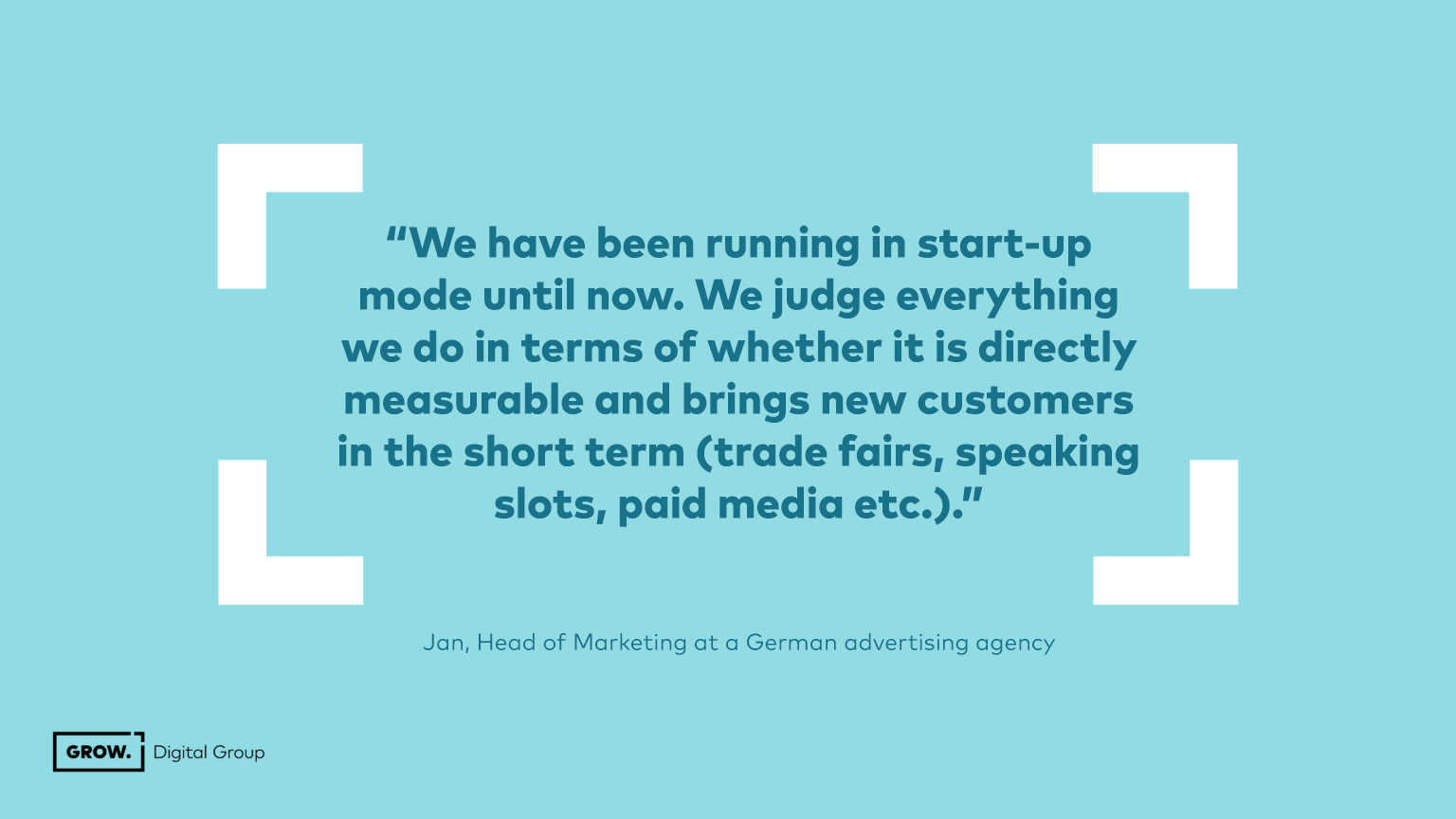 For large companies – or when investors come in – forecasting marketing investments is an important foundation for evaluating the company's situation. It is necessary to examine which marketing measures contribute to achieving the company's goals at what cost and how. Thus, the budget plan is a building block to provide the necessary financial resources to secure the future of companies.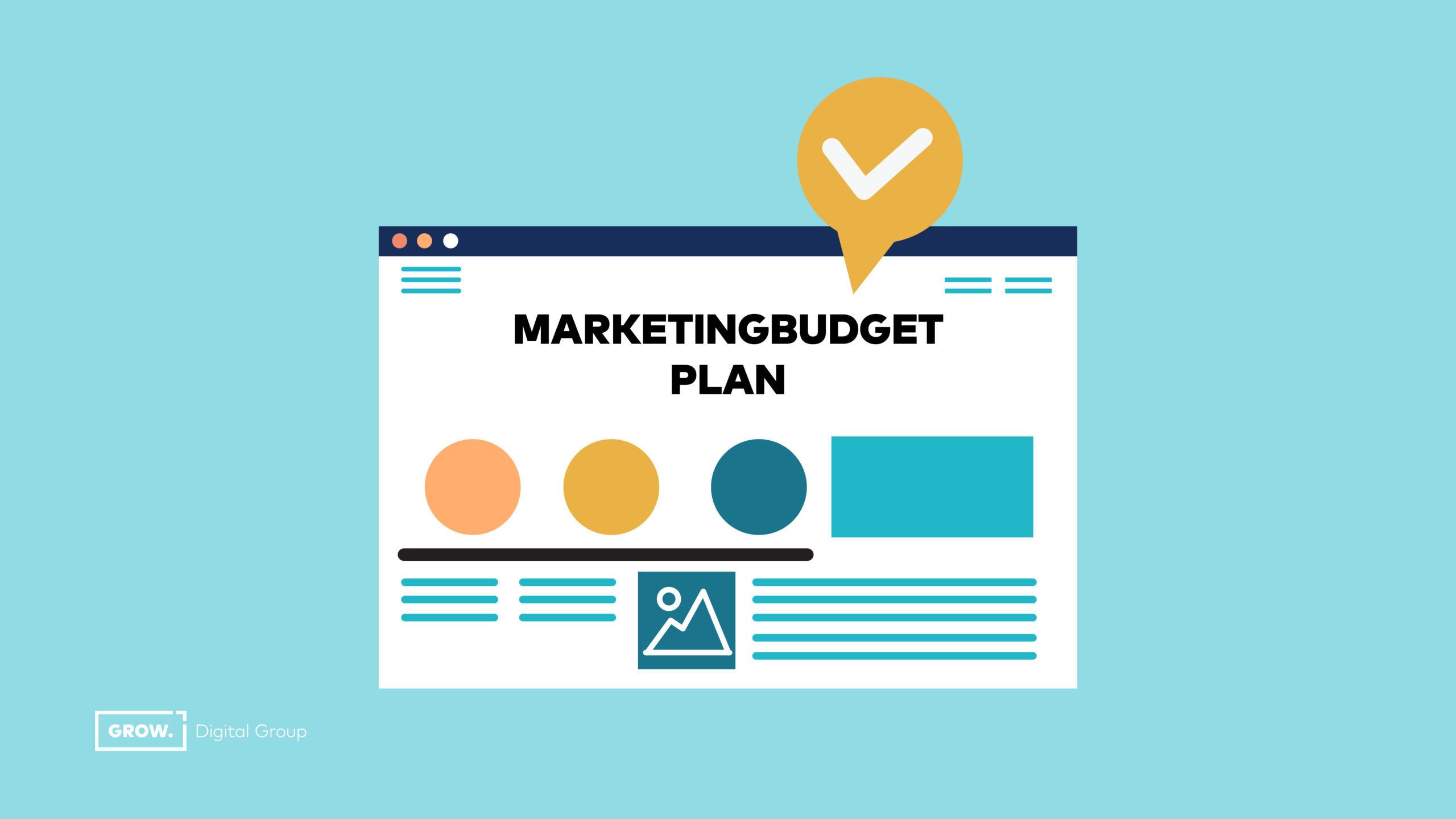 6 reasons why successful brands plan budgets
What's the point of all this fun? Here are a few arguments:
Provide guidance to marketing teams: Budget planning forces marketing departments to define the measures needed to achieve their goals. This provides orientation within the team and ensures that everyone is more likely to know what needs to be done. Reduce stress: Marketing plans bring clarity to the team, have a mood-lifting effect, can dispel anxiety and reduce stress. Effective resource allocation: Knowledge, time and budgets are used in the right places to achieve the best possible results. Marketing campaigns are more likely to succeed and deliver better results. Enhance competitiveness: Well-forecasted marketing budget planning can help companies be more competitive. It helps to better position offers on the market and to strengthen one's own brand. Improve decision quality: Budget plans bundle fact-based knowledge about the impact potential of marketing investments. Reconciliation between planning and real-life results builds on this knowledge. With knowledge of how markets work and marketing effects, the quality of future budget decisions increases.
Increase cost efficiency: Budget planning helps to optimize marketing expenditures. Knowledge from previous advertising, sales and marketing results is used to achieve defined marketing objectives as efficiently as possible. In this way, individual measures and investments become increasingly effective: corporate, sales and marketing goals are achieved more efficiently.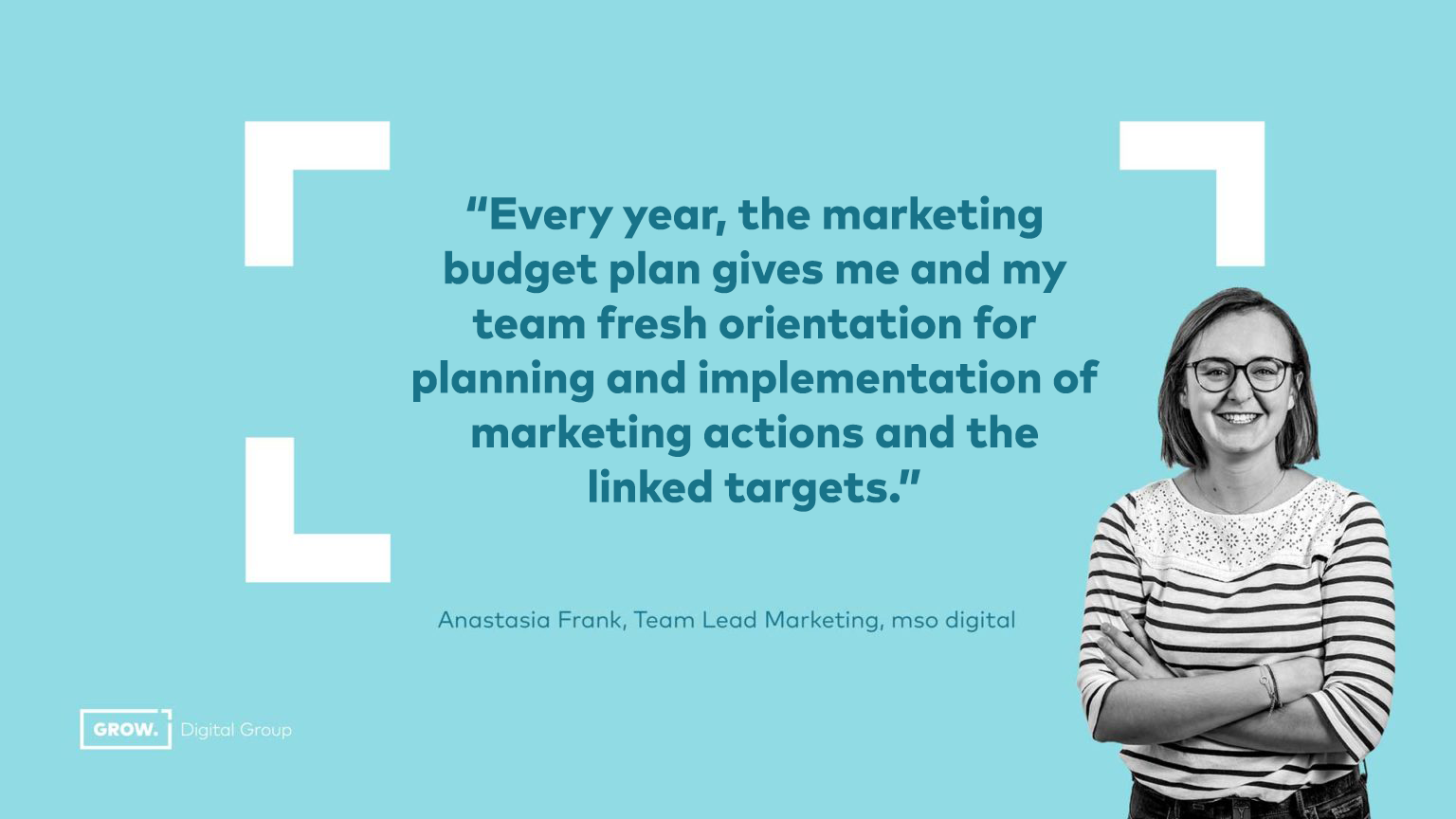 How much budget for marketing do we need next year and what is enough? Here we would like to provide answers to frequently asked questions about the marketing budget. Such are, among others:
How much marketing budget is appropriate for social media? Oder konkreter: How much do Instagram / Facebook ads cost?

How much B2B advertising budget do I need for lead generation on LinkedIn? Is 500 euros per month enough?

How do I calculate the marketing budget for a startup?

How do I distribute my advertising budget between online and offline marketing?

What does search engine optimization cost and how much money should I budget for it?

How much should I budget for my brand and branding and how much should I spend on performance marketing?
The one correct answer to such questions as above is: It all depends! Depending on the situation, age, industry and company size, very different ways are used in practice to determine the ideal advertising and marketing budget. In the absence of all reference and experience values, calculation methods and formulas help to obtain rough guidelines. We will explain these in the next section.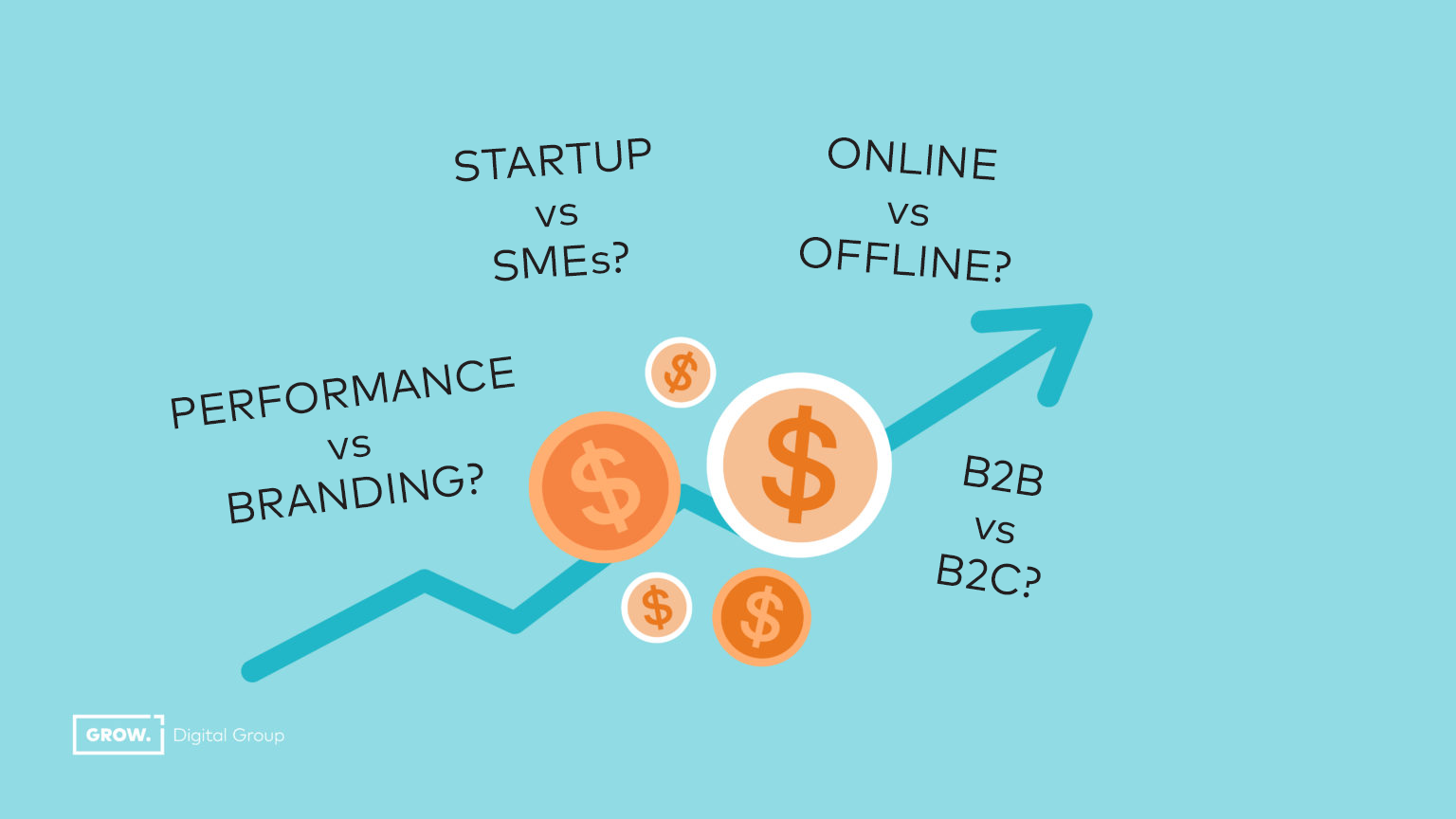 How is the marketing budget calculated?
Here's how you go about calculating the ideal marketing budget – the process at a glance:
Before the budget calculation begins, it must be clear which costs in your company are counted as part of the marketing budget. If a new online store is planned, the budget can be booked under development or marketing. The same applies to measures that are intended to support other business areas (e.g. flyers for sales). Whether these are accounted for as sales expenses, marketing costs or even equally in both areas is decided on a case-by-case basis. Therefore, it is best to first discuss this with the management, controlling or the other budget managers.

Development of the marketing plan and compilation of optimally fitting measures: Based on the goals, the behavior of the competition and the wishes of your target group, you put together the actual marketing action plan. You can find a practical example and templates below.

Based on the planned measures in the marketing plan, you then draw up the actual budget plan. In this, you combine cost and budget estimates for the measures. This includes agency services as well as the advertising budgets per channel.

Last but not least, you present your planning in front of the other executives or the management and have good arguments why and for which measures you have budgeted in order to get a budget approval from the management.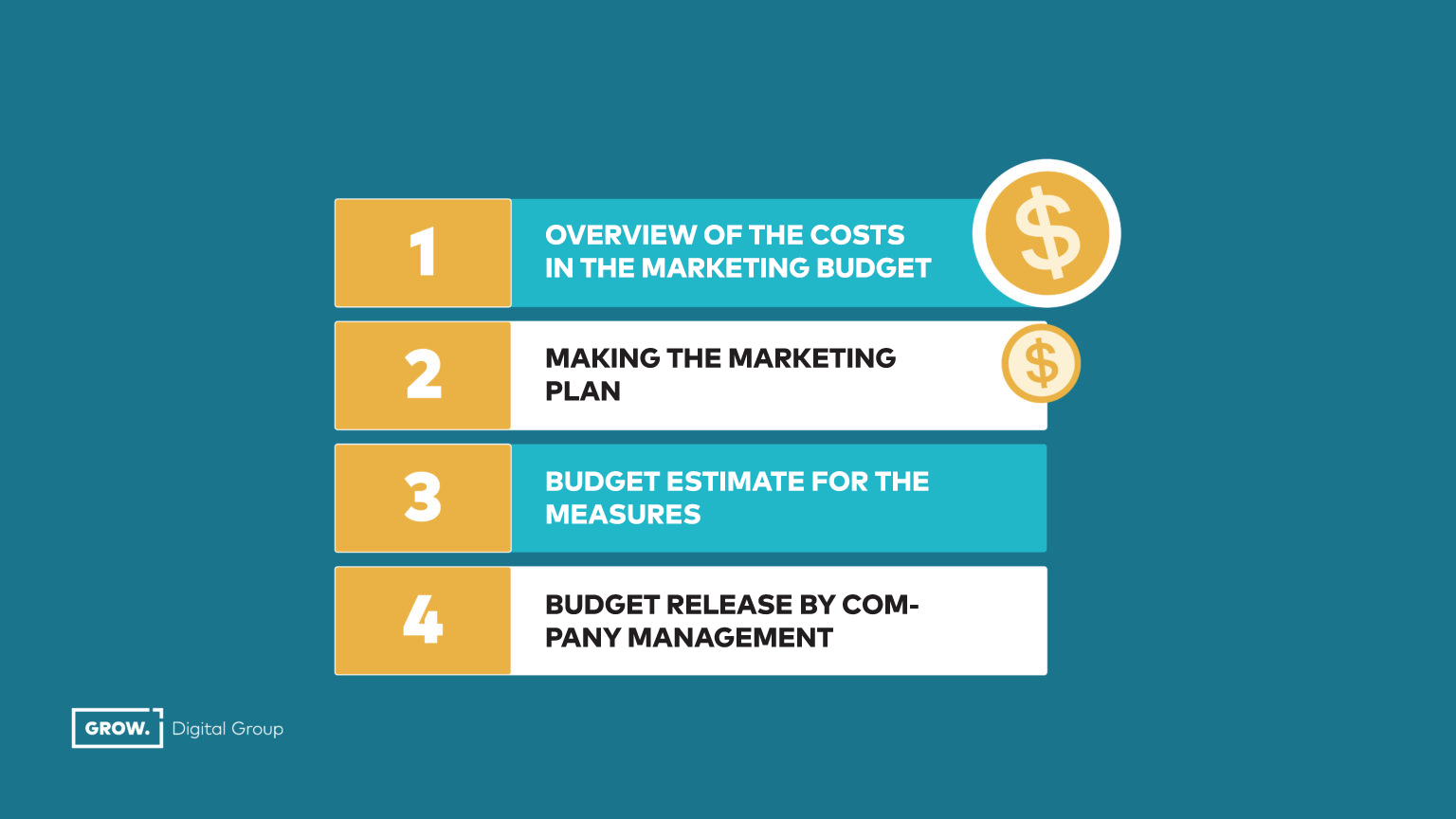 What belongs in the marketing budget?
Most companies list the costs for planning, implementation and execution of measures, campaigns and advertising in the marketing budget. In some cases, the costs for personnel, tools or the operation of systems are also included in the budgeting.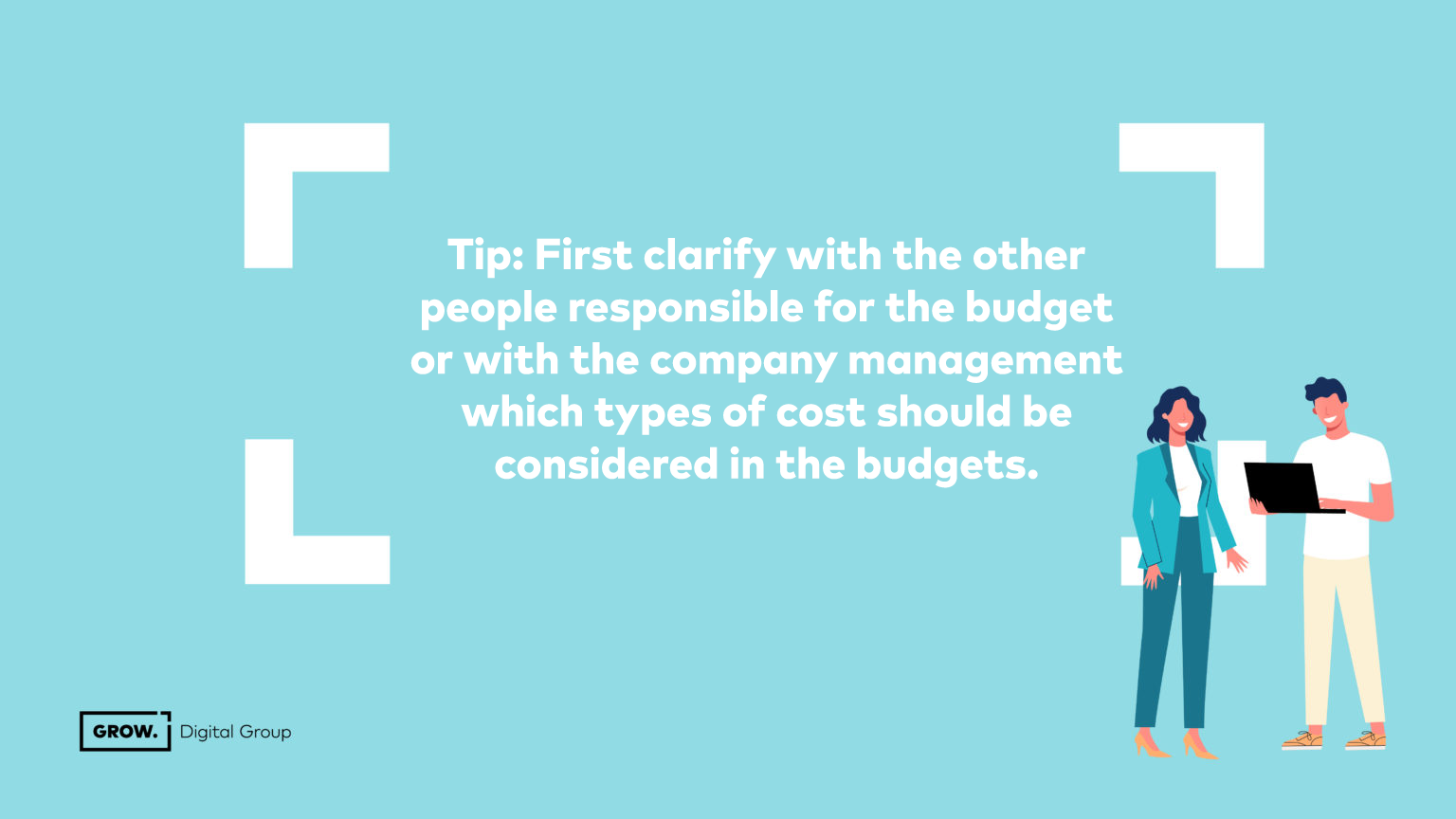 Common items in marketing budgets
All expenses for planned marketing activities divided optionally by advertising purpose (branding vs. new customers) and/or advertising channel (offline  vs. online) or cost type (agency costs, advertising budget, fixed, variable). In the free budget plan template linked below all these activities are already listed 🙂!
Spending on branding & brand positioning, such as updating corporate design, further developing brand personality, or other investments in the brand itself.
Costs for mass media divided into above the line media such as television advertising, radio advertising and billboard campaigns.
Costs for promotion, sales promotion and point of sale marketing: Whether sweepstakes, discount campaigns in stores or promotional activities – especially in the trade and retail sector indispensable in the marketing plan!
Expenses for event marketing: If the organization of trade fairs, conferences, open houses, product demonstrations and other events is on the agenda, this should be included under events. In the B2B area, this is a frequently occurring expenditure block in the marketing plan.
Investment in performance and online marketing. Campaigns with Google AdWords, on Facebook, Twitter, LinkedIn and Instagram fall into this "budget pot". The production of guidebook content, whitepapers, webinars and other video or audio content are also well-considered investments in many marketing budgets today.
Budget for Public Relations: Include investment in developing stories and writing press releases, organizing press conferences, and other public relations activities.
Direct marketing costs: Spending on mail advertising, email marketing and telemarketing can be reasonable and  considered depending on the marketing objective, target audience and industries.
Product placement: Is a placement of products in movies, TV shows, music videos or even with influencers on YouTube, Insta or other media planned? Then they should end up in the budget plan.
Expenditure on customer loyalty programs: These should be planned if, for example, the establishment of loyalty programs, customer magazines and other customer retention measures are planned.
You have questions about the structure of the budget planning? We'll be happy to give you answers, here you can contact us free of charge and without obligation.
Optional positions in the budget plan
Whether it's a requirement from above, an organizational wish on the part of the controller, or a tax calculation: the following budget items are sometimes part of marketing budgets, sometimes not.
Employee costs: There are differences in how direct and indirect employee costs are included in marketing planning. Accordingly, some companies add personnel costs to the marketing plan, while others do not. Proportionate offsets are also not uncommon.
Further development of the marketing team: Whether team building, meals or benefits, some companies include these in the budget plan, others do not and book such items under staff development or similar.
Tool costs and system operating costs such as licenses for the CRM, fees for web hosting or the operation of a data warehouse can also be included in the marketing plan. In other cases, they are counted as operating or IT costs.
Market Research (MaRe): Surveys, focus groups and other market research activities should NEVER be shortchanged. For these costs, it formally depends on which area of the company initiates the research. Is it the product development and research department that drives MaRe? Or is it the marketeers? Depending on the company and the case, different handling of these budget items is possible – it is best to clarify this on a case-by-case basis with the controlling team or management!
Costs for legal issues such as privacy issues, patents and trademark applications are sometimes handled internally by the legal department, but sometimes they are built into the marketing plan as a buffer or reserve.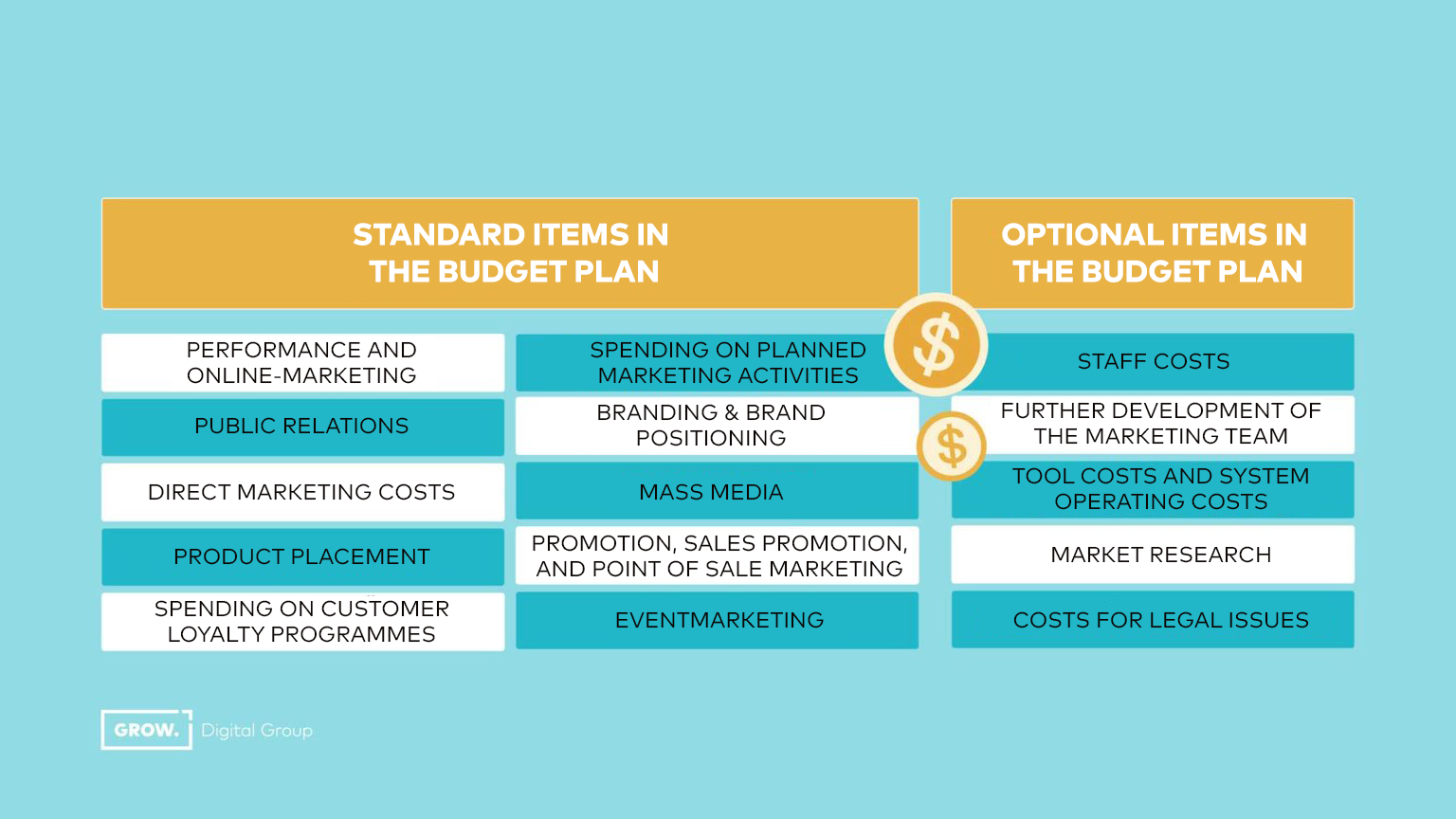 How do I calculate my marketing budget? Formula & Methods
For the budget calculation you have the following five methods at your disposal:

The goal-oriented method (clear recommendation from the GROW team): Based on your business and marketing goals, it calculates which investments are necessary to achieve the goals.

Sales share method: The marketing budget as a percentage of annual sales (e.g. annual sales € 1 million, marketing budget 5% of this = € 50,000.00).

Competition Method: The size of the marketing budget is based on how much competitors invest to dominate the market.

Previous year guideline method: Hereby, the value established from the previous years is simply assumed also for the marketing expenses in the following year.

Opportunity Method: Any money left over is fully put into marketing and sales for maximum growth.
The goal-oriented method to calculate your budget
Tip for you: Develop your budget plan perfectly suited to your business with the goal-oriented method. Because to be able to determine the optimal budget, you must know the following influencing factors:
The company goals and marketing goals derived from them: Is strong growth planned for the next year or do costs rather have to be saved? The goals set thus decisively influence the amount of the marketing budget.

The size of the company also plays a role: as a small niche supplier, I have to plan less than if I am active in a mass market with global competition. The same applies to the size of the marketing team: 20-head teams calculate differently than the one-(wo)man marketing managers. Larger companies also tend to have greater resources for marketing.

The company age and brand awareness: Startups need to build brand and awareness first, market leaders can still benefit from their brand awareness for years even with decreasing advertising investments.

The economic situation and competition: Those who are currently experiencing a highly successful phase can plan differently than when sales are falling away and a crisis is approaching. Likewise, companies operating in an industry with strong competition must invest more in marketing in order to prevail against competitors.

The industry: In some industries, higher marketing spend is required to be successful, while in others, lower spend may be sufficient. A small local B2B service provider needs to calculate marketing spend differently than a B2C brand in a global saturated mass market.

Digitization and marketing maturity of the company and the market: How far has digitization progressed, how is data already being used to make resilient marketing and sales decisions? Are data-based insights already available on how and where new customers are effectively acquired? Then the starting position is different than if I first have to build up knowledge about effective marketing channels.  Because each channel has its own costs that have to be taken into account when planning the budget.
Do you need estimates for certain marketing components? For example, how much budget you should plan for online marketing on Google or Facebook? Feel free to contact us, because the hundreds of experts at GROW Digital Group can help you with real-world tips.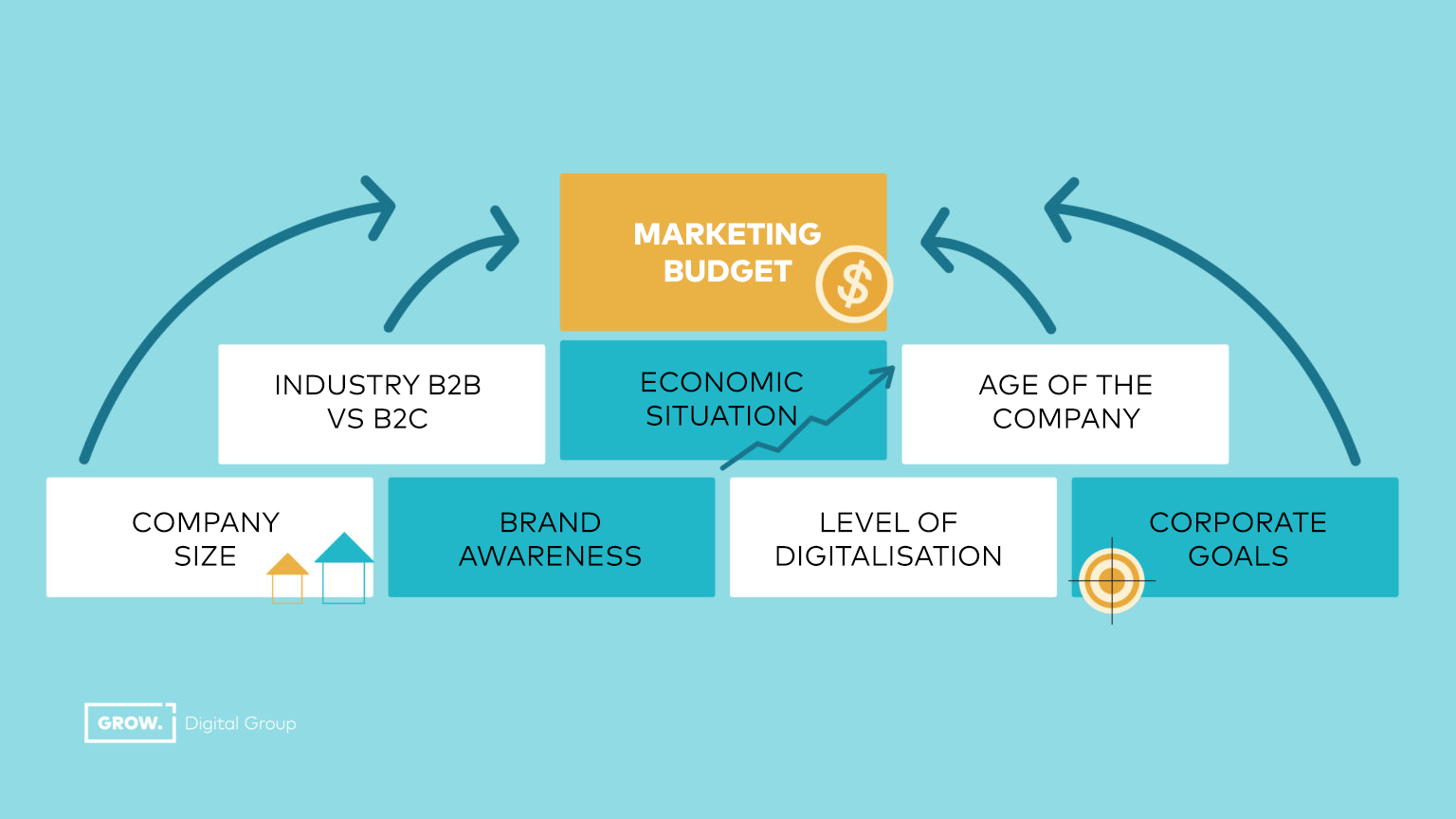 Only if you take into account all the influencing factors mentioned can you determine a perfectly fitting budget. So you need to have a few conversations with the executives, marketing experts and the management.  In return, a realistic marketing plan helps to achieve the company's goals.
Evaluation of the target method: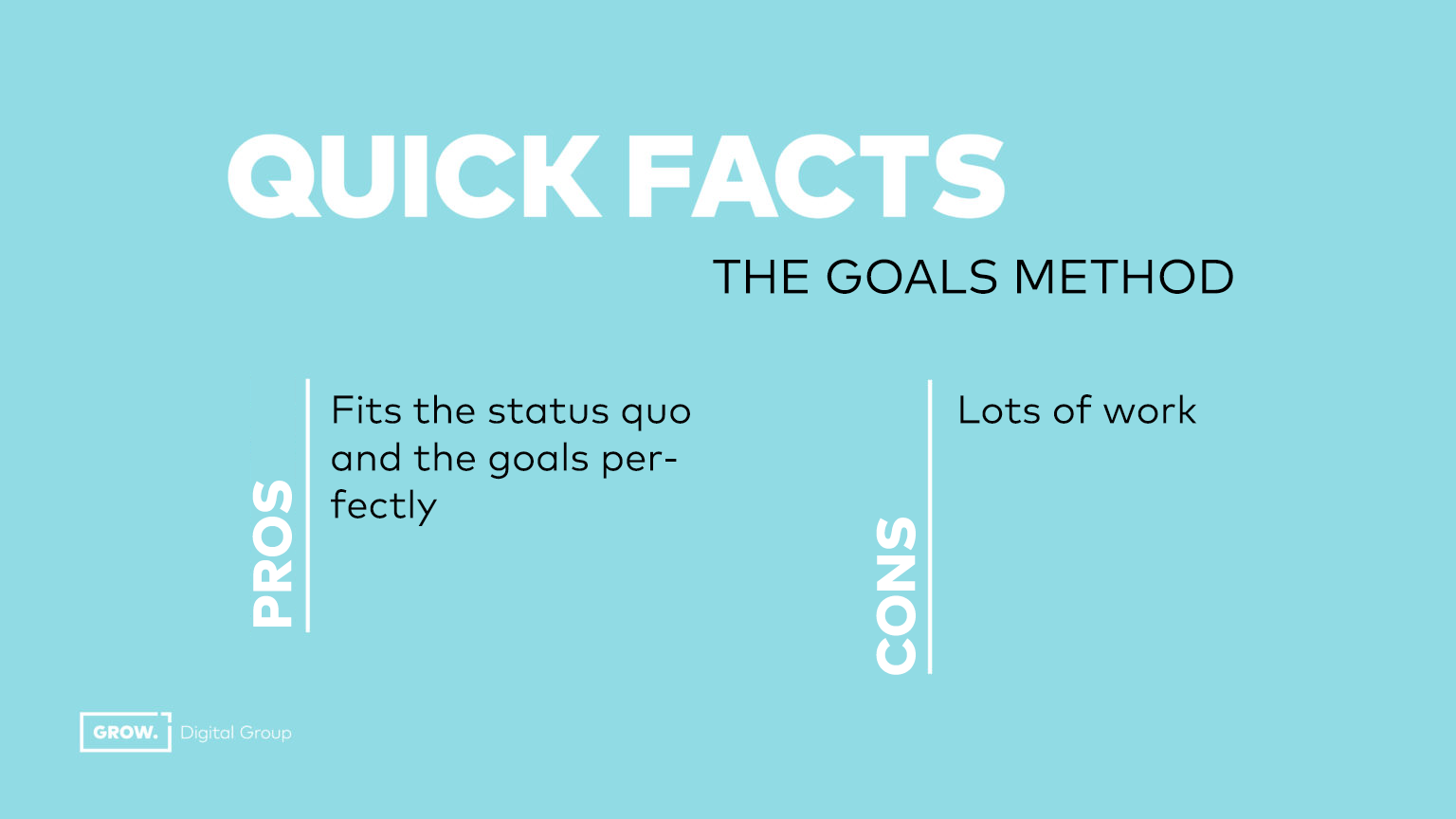 How much marketing budget: % of sales Method
"What is the proportion of the marketing budget to sales?". A lot of statistics and studies want to give an answer to this question. But the results vary between 0.5 and 15%.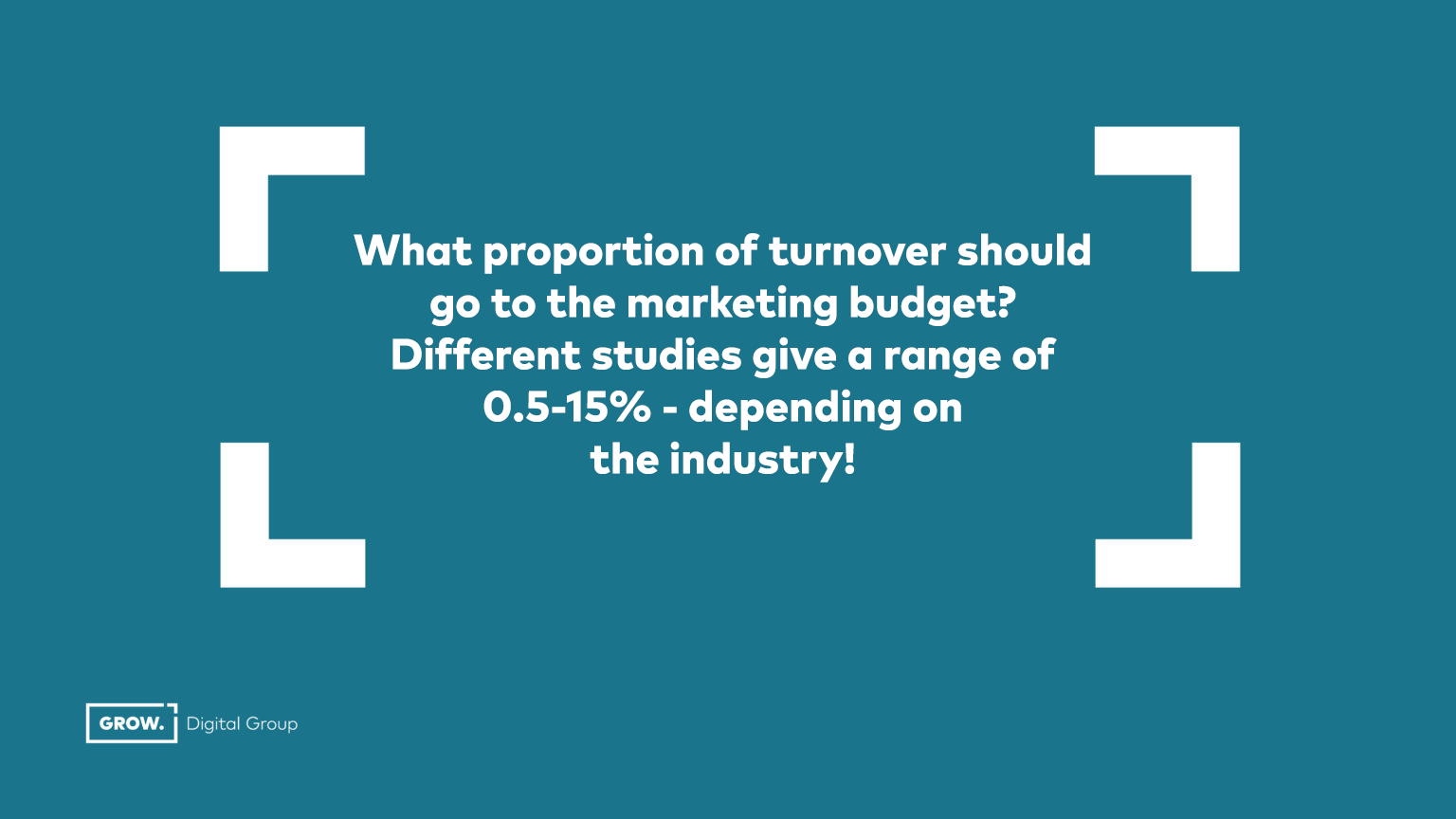 Here are some facts, statistics and studies on the revenue share formula:
Digital service providers or software tool vendors plan to spend 8 to 10% of their annual revenue on marketing.
According to Bitkom Budget Study, the budget share of sales in the ICT industry has stagnated at 5.4% for years.
The result of a B2B study by the Bundesverband der Industrie Kommunikation e.V. (bvik), on the other hand, shows that companies in the B2B segment invest only 0.5% of sales in marketing.
The large variation shows that this calculation method really only allows the roughest estimates. The smaller the companies, the higher the share of marketing investments in sales should be.
So you see, there is no one right answer to the question of the share of marketing expenditure in sales. How much your company should spend on marketing per year is always an individually developed plan.
Valuation of the share of sales method:
| Advantage: | Disadvantage: |
| --- | --- |
| Simple and fast | Very inaccurate |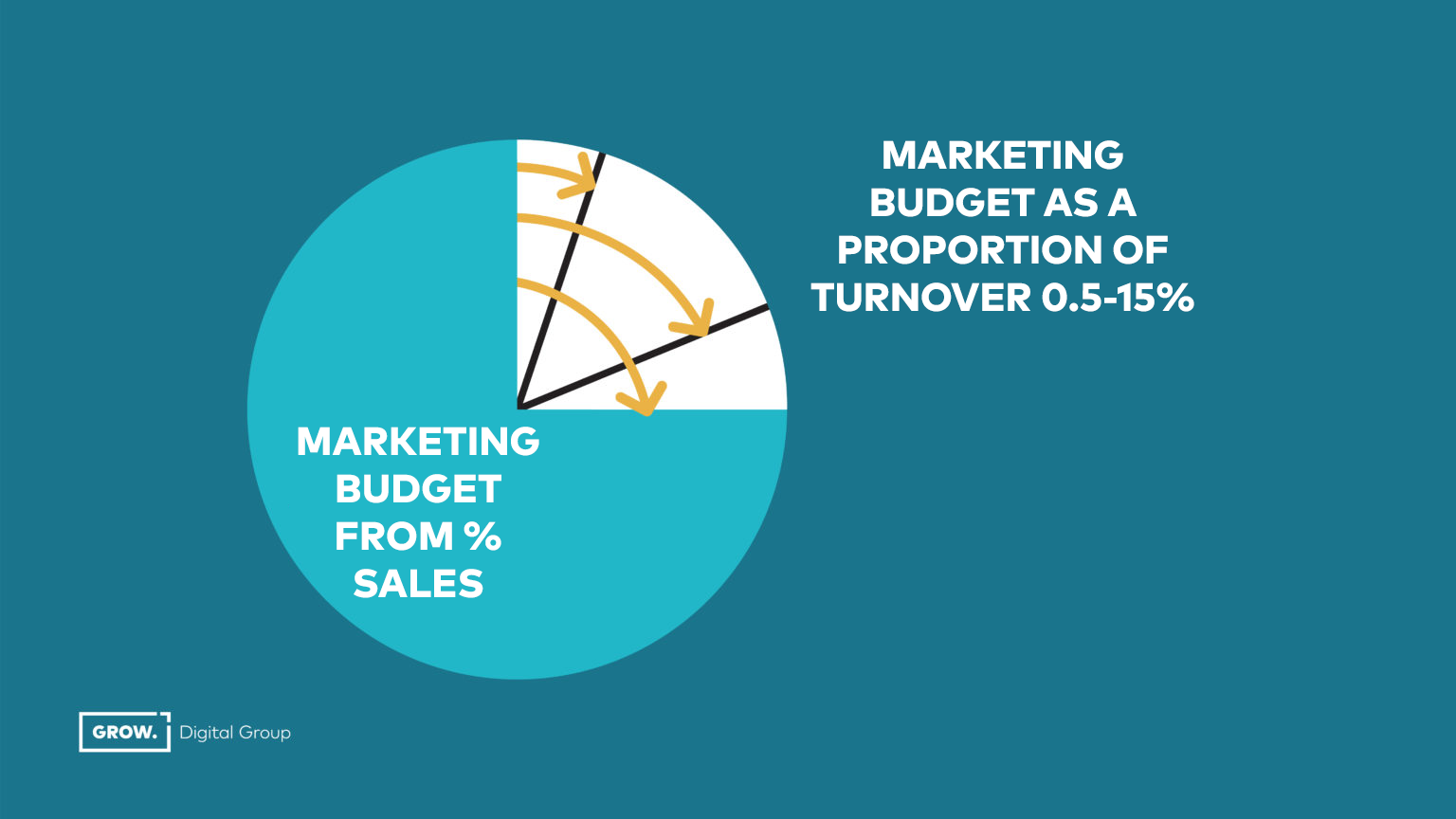 The competition method – keeping up with the competition
In order not to lose market share to competitors, some companies take their cue from the advertising budgets of their competitors. The big question here is, how do I get the competitors' figures?
On the one hand, an attempt can be made to assess how high the budgets are on the basis of the visible campaigns (how many TV spots, how much money in Google Ads, etc.). Or marketing decision-makers switch to the competition, so that experience values can also be built on in this way.
This calculation method is already more industry-specific than the sales method, but completely neglects which goals the company wants to pursue with marketing in the following year. For example, in addition to maintaining market share, entry into a new market can also be planned – in which case the view of the competition is often not correct.
Evaluation of the competition method:
| Advantage: | Disadvantage: |
| --- | --- |
| Orients itself to the market and competition | Height often only estimated |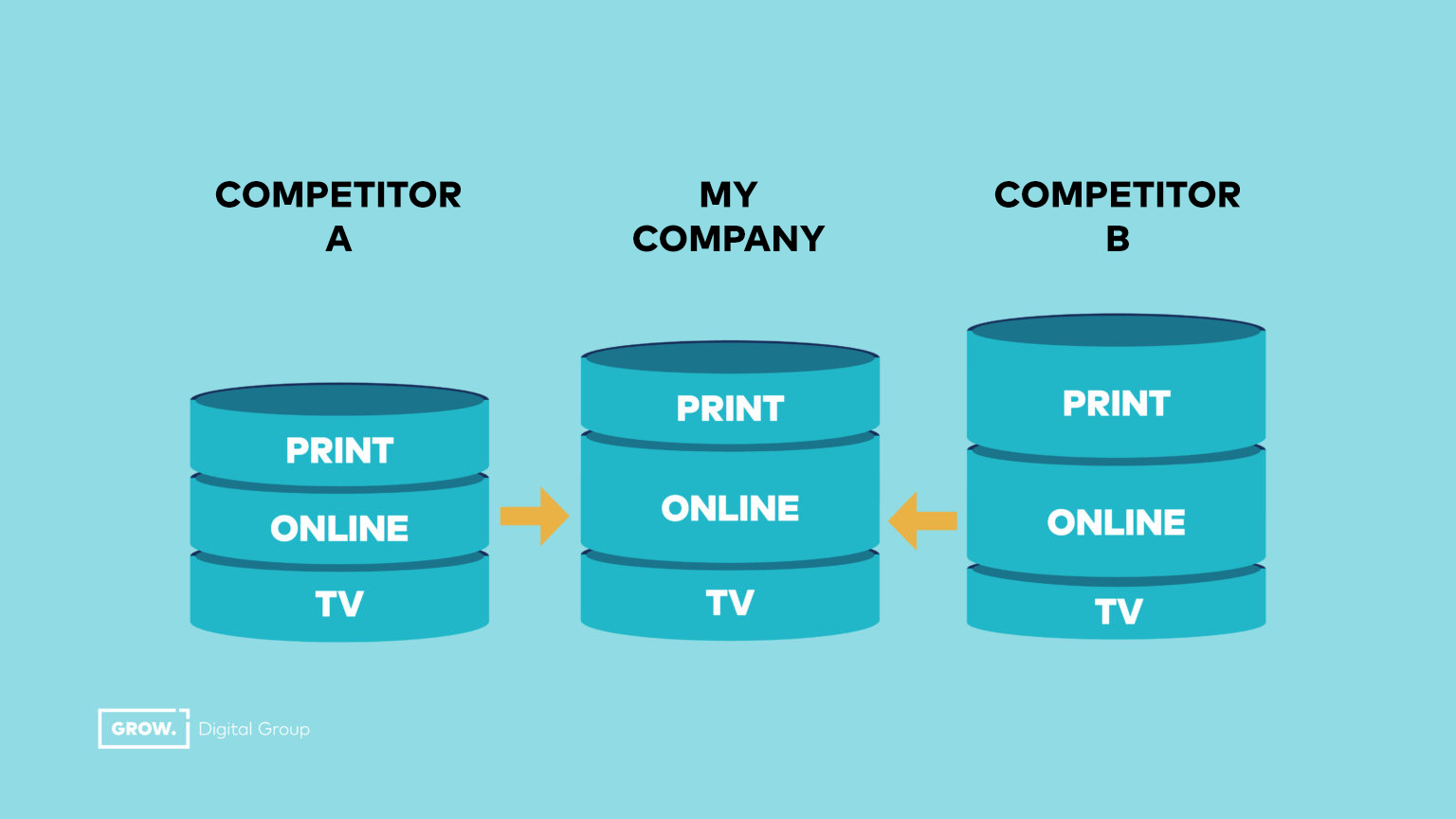 The have-we-always-done-it-this-way method
The experts at GROW agencies hear from many clients that marketing budgets correspond to the values of the previous year – a frequently used approach. Freely following the motto 'We've always done it that way', marketeers plan the same fixed amount for marketing every year. That sounds straightforward and low-effort. But this method neglects the relationships between marketing budget and business goals and changing market conditions. Depending on market, competitor and target developments, it can be just as useful to increase a certain percentage of the budget each year.
Consequently, this method is only useful if companies are operating in fairly stable markets without much dynamism.
Evaluation of the "always done that way" method: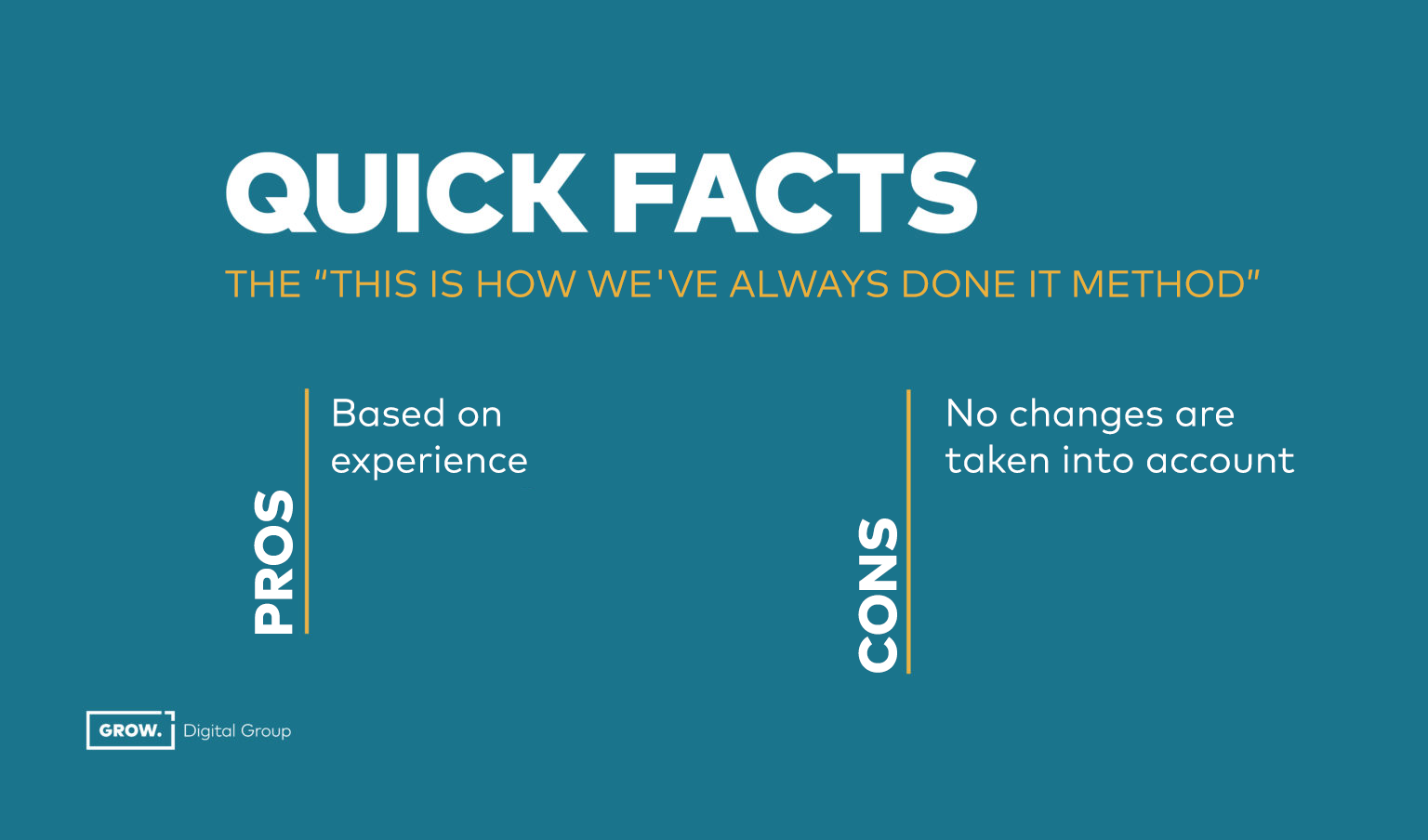 The "everything that is there, we use" method
Especially in young, up-and-coming companies, exactly what is there is spent on marketing. Thus, what is invested here is what the financial resources provide. While this ensures financial viability, it does not take into account market developments and the relationship between input and output.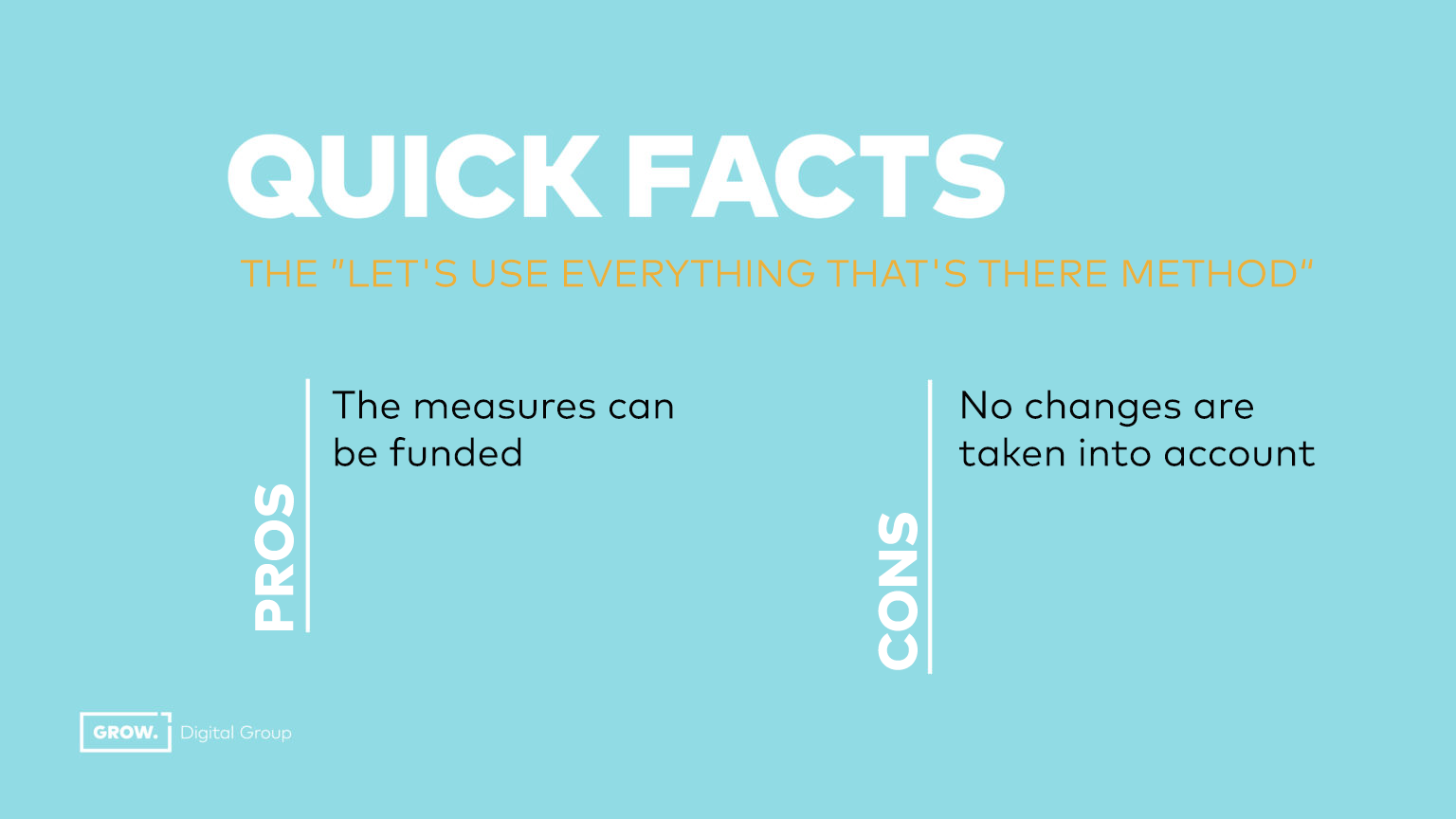 Budget Planning Templates, Examples and Tips
This section is about practice: The following templates and examples should help you to do your work quickly and well. Do you still have questions or are there elements missing? Then please write to us so that we can help you further.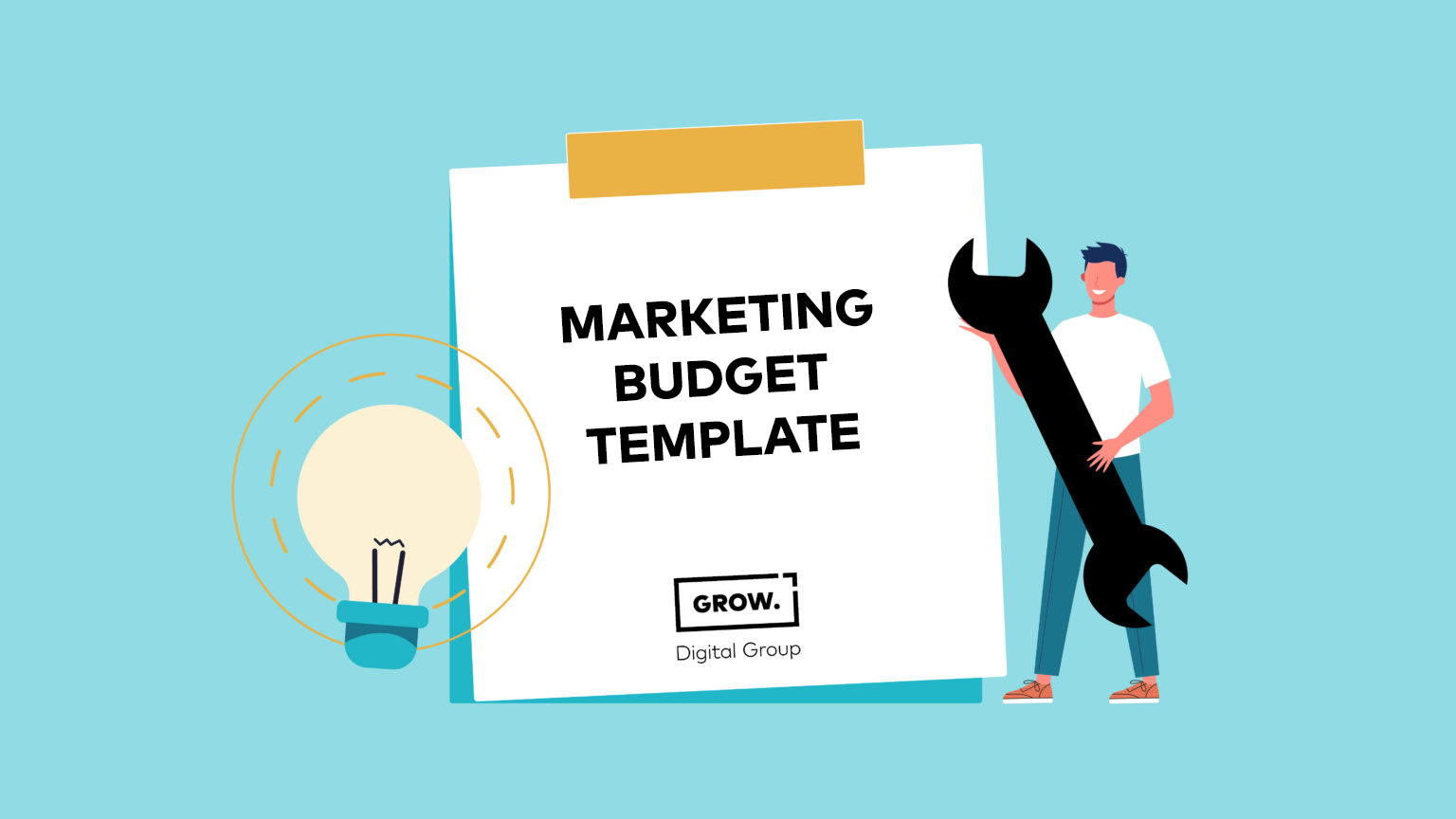 Marketing Budget Template in Excel and Google Sheets
Whether you are a corporate group, medium-sized company, start-up, B2B or B2C market: The free marketing budget plan template is the basis for any planning. You can easily adapt the GROW budget plan to your needs. You save a lot of time, because all conceivable measures are already listed. You simply select the lines that make sense for your marketing.
Download free marketing budget template as Excel file: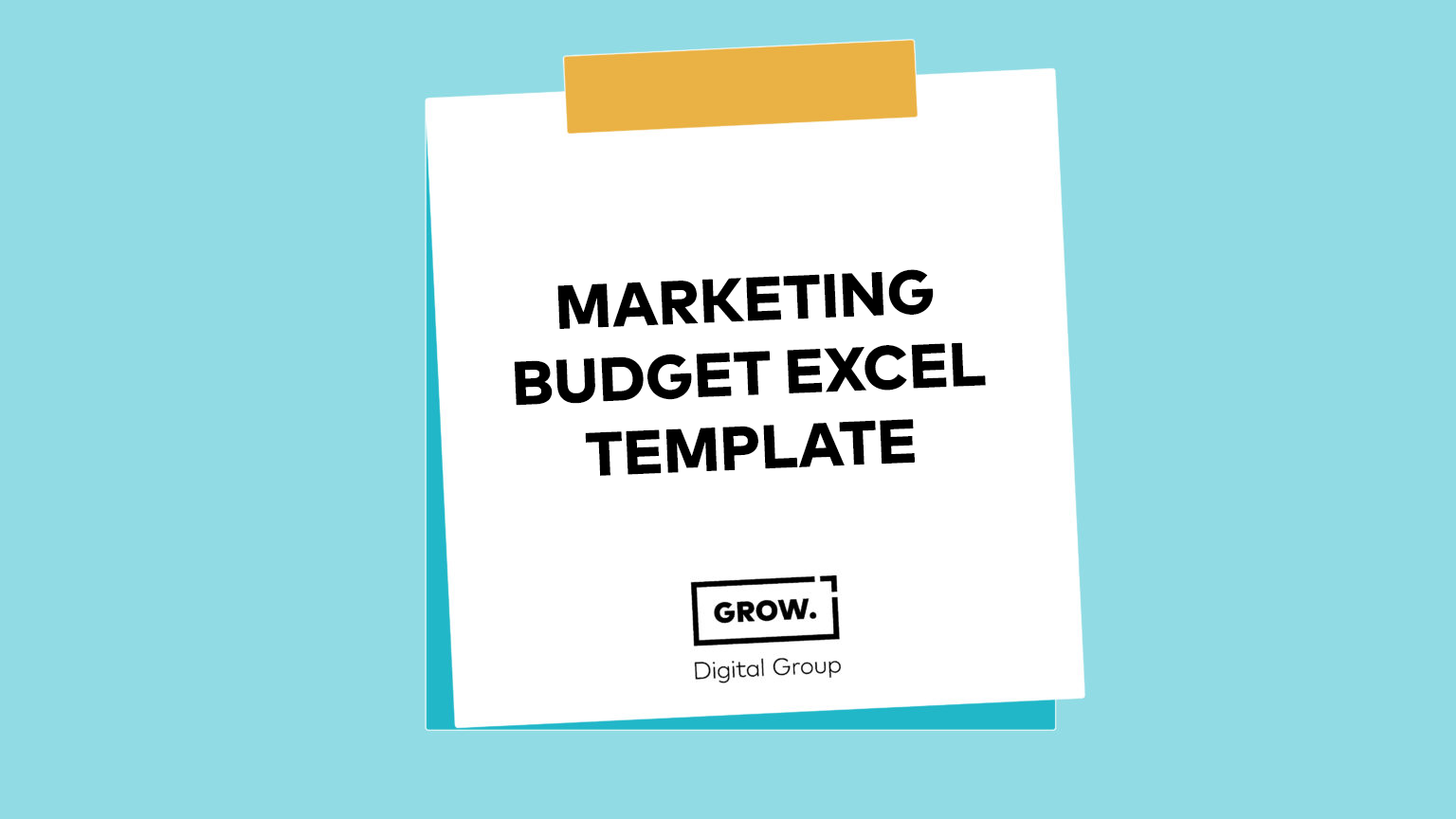 Open the template as Google Spreadsheet here: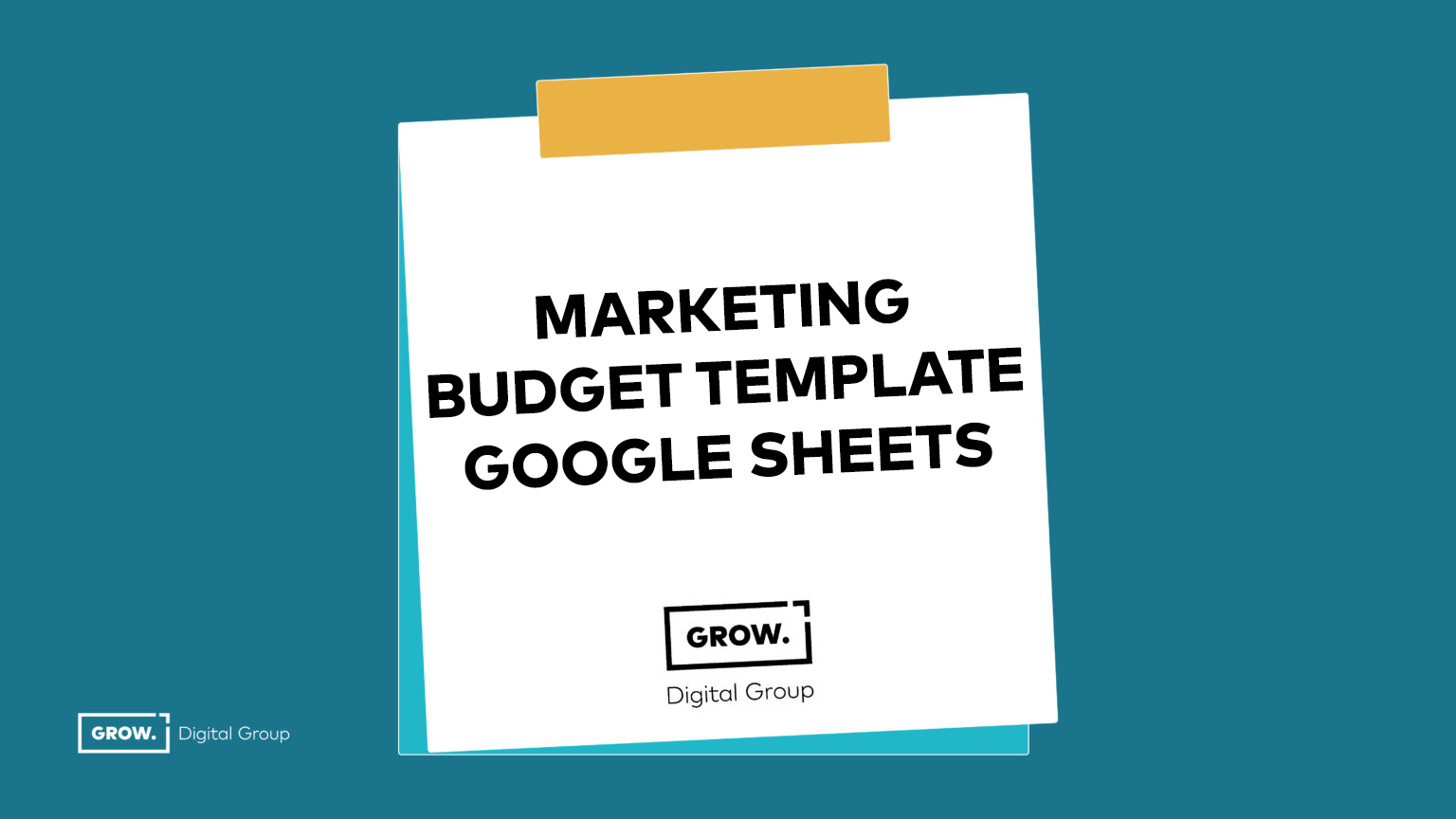 Examples of marketing planning
Here is an example of how to plan and calculate a marketing budget. The following example is highly simplified to explain the approach as simply as possible. Wherever you have individual questions: The GROW team will be happy to help you here.
This is what an exemplary process looks like:
Determining company goals: What goals is your company aiming for in the future? It is about answers to questions such as: Is it about growth, do costs have to be reduced or is it more about customer retention? For example, let's assume that the company's goal for the coming year is growth – specifically, €250,000 more in sales next year.
Derive marketing goals: The corporate goals now help to derive which goals arise for the marketing. The more concrete you formulate the goals, the better. For example, the marketing goal could be: 150,000 € more sales through targeted marketing measures. The sales department has to bring in the 100,000€ in additional sales that are still missing from the company's target.
Derive marketing measures: Now all current marketing measures and their costs (e.g. for web page, for flyers, fair appearances etc.) are arranged first. Helpful here are of course the planning values from the current year or previous year. Let's assume that the marketing budget for all marketing activities has so far totaled €250,000 per year.
Now it comes down to planning how much more budget is needed to generate the additional 150,000€ in sales. This is where marketing experience, comparative data and expertise are needed: it should be carefully thought out which measures are chosen on top to achieve the additional 150,000€ in sales.
As also in practice usual, thus own ideas are collected and some discussions with agencies, advisors and other marketing gurus led. Afterwards two new selling ways seem suitable the additional conversion at a value of 150.000€ reinzuholen:
1. structure and use of Google Ads advertisement (goal +90.000€ conversion)
2. structure of marketing automation, in order to qualify Leads (+60.000€ conversion).
Are you facing similar challenges? How about talking to one of our GROW experts? In a relaxed exchange, you can benefit from the experience of over 600 marketing experts. We will be happy to assist you with tips, ideas and guidelines for your marketing planning.
Arrange a non-binding meeting with the GROW experts here
Predicting costs: If you do not have any empirical values, a conversation with experts makes sense here at the latest. Because thanks to professional practice, they can usually quickly estimate benchmarks, how much budget you need for the planned Google Ads and marketing expansion.
Example: The estimate of a Google Ads expert results: With the use of 30,000€ marketing budget for Google Ads setup, agency fee and budget  an additional turnover in the amount of 90,000€ seems possible. A second specialist states – based on the analysis of your website data: Due to the high access numbers of your website, an additional sales potential of 60.000€ seems to be possible by means of marketing automation. This means that you have already reached your marketing goal of an additional 150,000€ in sales.
Of course, this is all extremely simplified and serves only the basic understanding. Your marketing planning now looks like this: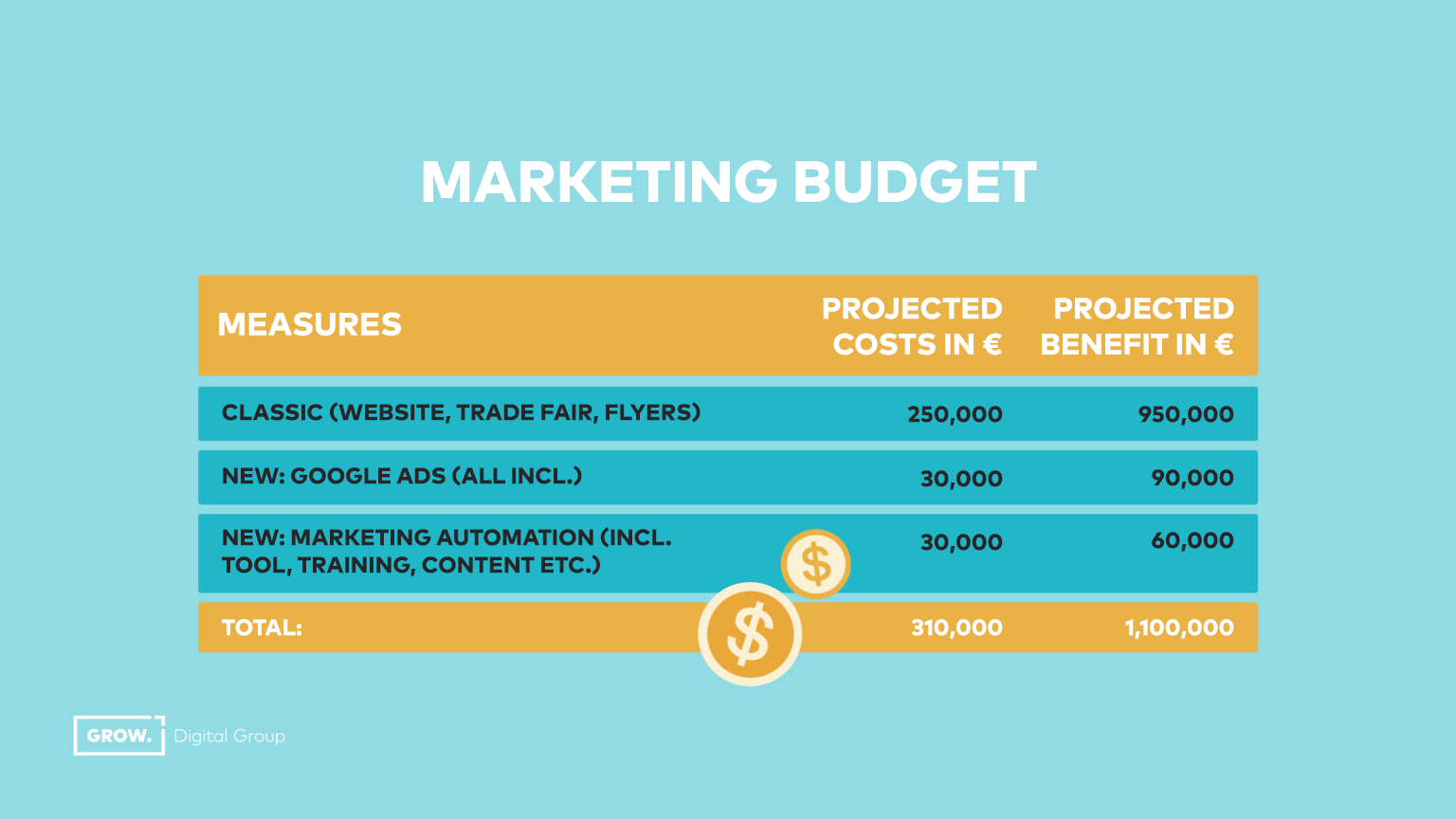 Clarify funding requirements and have budget approved: As a rule, the budget plans of the individual areas are presented and reconciled in the management circle of the company (all department heads and management). Here applies to the marketing thus: You can provide as marketing management with a marketing budget of 310,000€ (that is 60,000 more than in the previous year) for additional sales in the amount of 150,000€ over new customers.
And everything clear? We hope the example helped you. If something is unclear, leave a comment below the post so that other users can also benefit from your hints – our answer will follow directly!
Need help or want a second opinion on your planning? Try the GROW experts who will be happy to help you in word and deed in a no-obligation initial consultation:
Negotiate and defend your marketing budget
Once your planning is complete, the next step is to present your budget and explain why you are planning which measures. In the following we give you tips for the preparation of presentation and negotiation.
Preparation of your budget presentation
You should prepare your budget presentation with care, because not everyone in the company celebrates the marketing department's spending. Statements such as, "They're just blowing our hard-earned money," are said to occur in one hallway conversation or another. This attitude fails to recognize that marketing is one of the most important levers in companies for increasing sales and profits and ensuring additional growth.
Structure your argumentation in such a way that you show in an easily understandable way that the marketing budget is not a cost block but an investment in the future of the company. Positioning the brand and its offerings is just as important as investing money in product development, process optimization or personnel.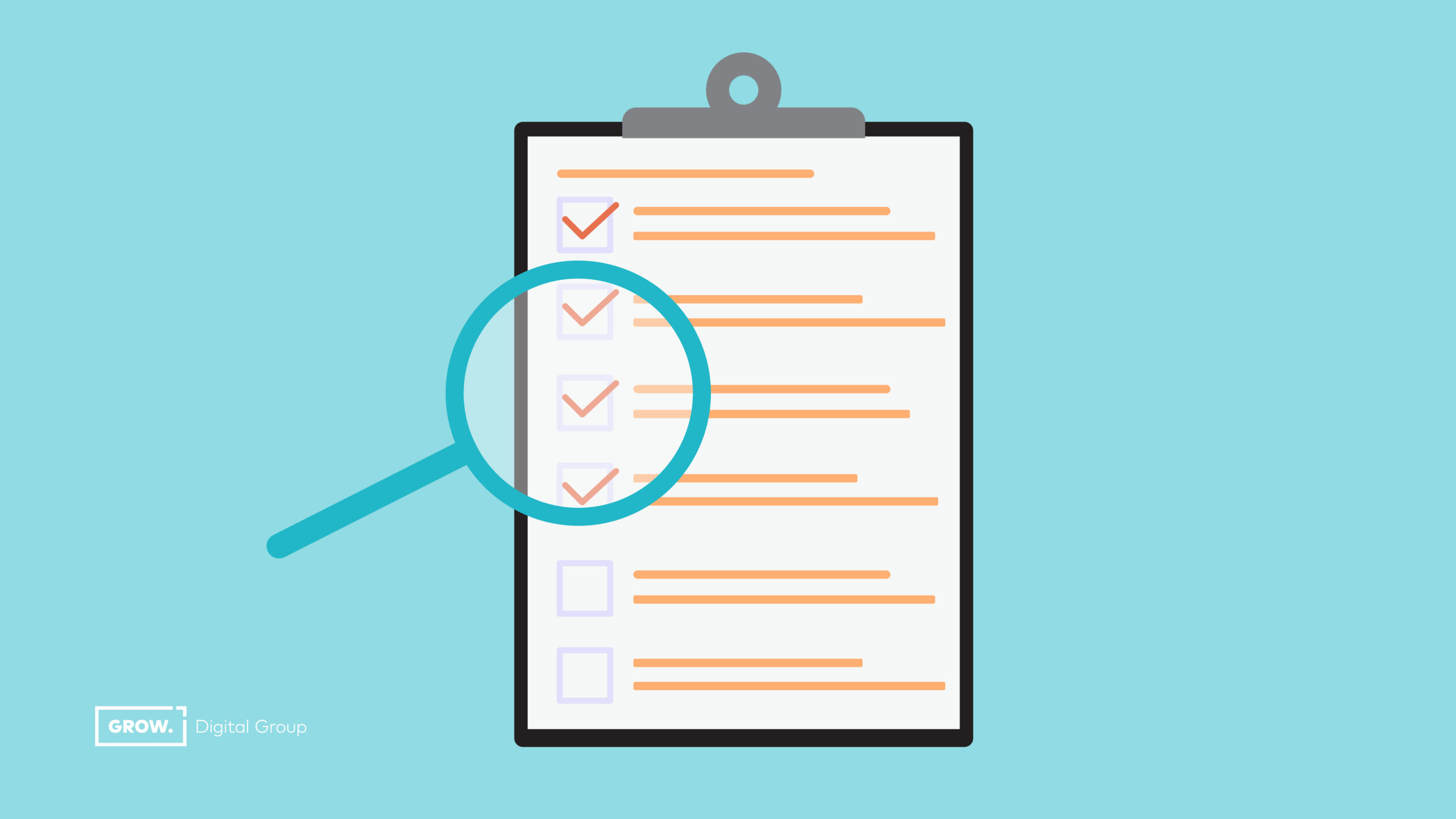 Tips for building your budget presentation:
Explain as clearly as possible what goals marketing is pursuing – show the connection between the company's goals and what influence marketing will have on this.
Make the cost-benefit ratio transparent: What output do you expect from what input?
Work with target comparisons between the previous year and the following year. If your marketing goals are 25% higher, it's easier to ask for a 25% budget increase.
Seek advice from various experts on the planned measures and the associated planned costs. A second opinion on your estimates is never wrong and helps to forecast as close to reality as possible.
Build your budget on transparent measurable data If you can show that last year 45% of leads at a CPL of 75 euros were brought in via Google Ads, it's easy to calculate what will happen if you double the investment in Google Ads.
Never put too much budget on one card: Planning everything for only one channel (e.g. Google or Amazon) or one campaign brings with it a great dependency. If there is only one change from the outside (Amazon increases commission), this can endanger the business success.
Performance and sales marketing are welcome, as marketing investments here translate directly into revenue and sales. But always plan a part of the budget for brand development and maintenance. After all, if brand values decline, this can quickly impact sales performance.
Test new things: You should keep part of the budget ready for trying out new formats, channels and ideas. Because even in marketing, standing still is not a good plan!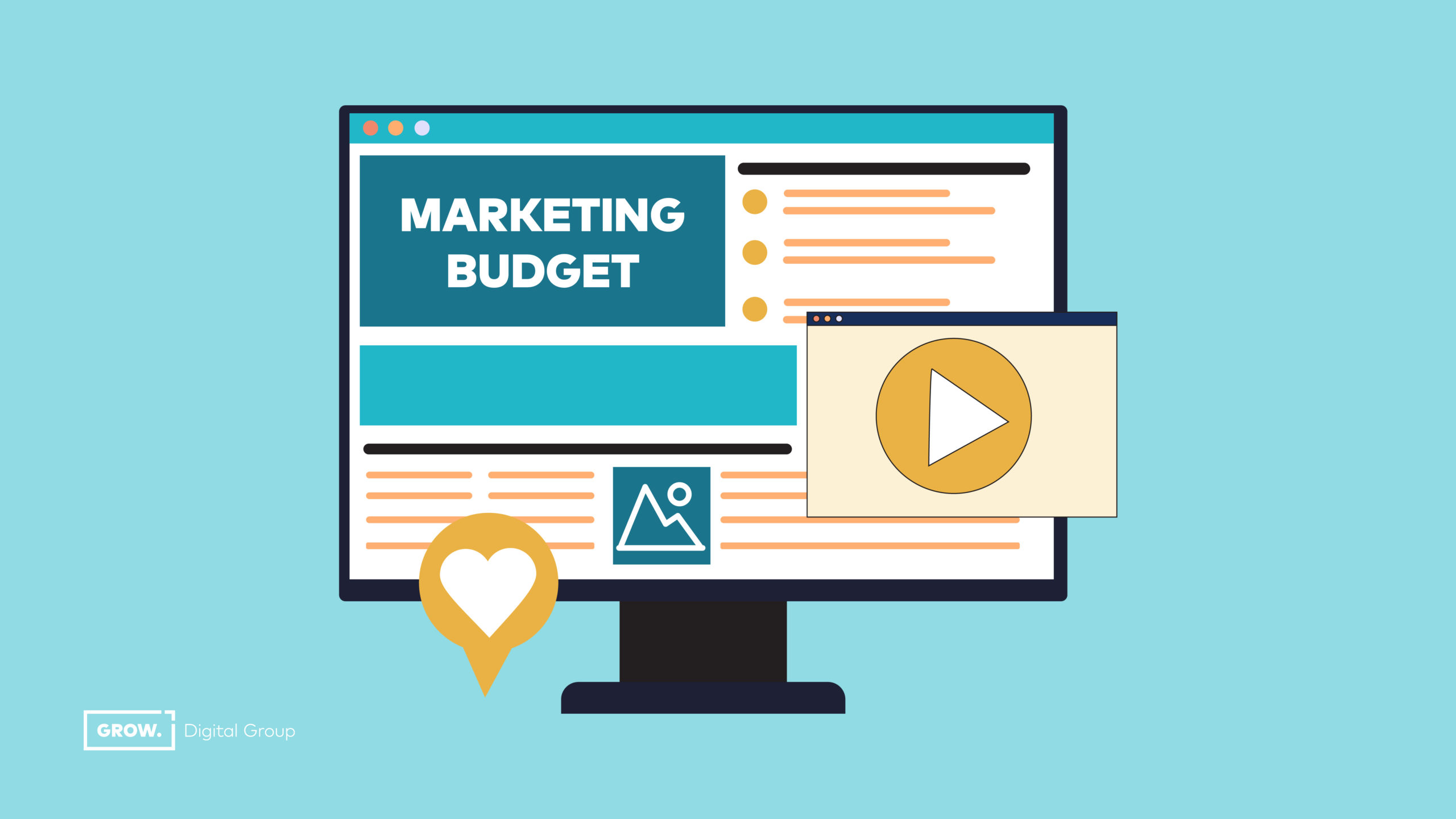 Present your budget, negotiate & get it approved
As a rule, the respective departmental budgets are discussed and negotiated with the management and in alignment with the other budget managers.
Once you have planned your own budget properly, it is now time to explain it well. Here, too, you should always make clear the influence of your work on the company's goals. Your clear goal: as few budget cuts as possible – because the smaller the budget, the more difficult it will be to achieve the goals you have set.
What matters in negotiation:
Link argumentation to corporate goals: What influence do the measures you are planning have on overall success? The more precisely you show the influence of individual measures on the company's success, the better. The management can do little to counter derivations via key figures such as ROI, ROAS, KUV or KUR.
Analyses and statistics on competitors are also helpful. Alternatively, industry benchmarks can help to put the budget requirements into perspective.
Sometimes savings need to be made and costs reduced, be realistic and show transparent effects of savings.
In other years massive growth is on the cards, use real statistics and analysis to show where you can leverage additional revenue potential.
Be convincing and emphatic: Listen to counter-arguments and check whether there are also middle ways, if the management does not agree with your budget proposal.
It helps if your marketing department is already strongly data- and goal-driven controlled Because then you have KPIs, metrics and benchmarks for your argument, so it quickly becomes clear what happens when your budget is increased or cut.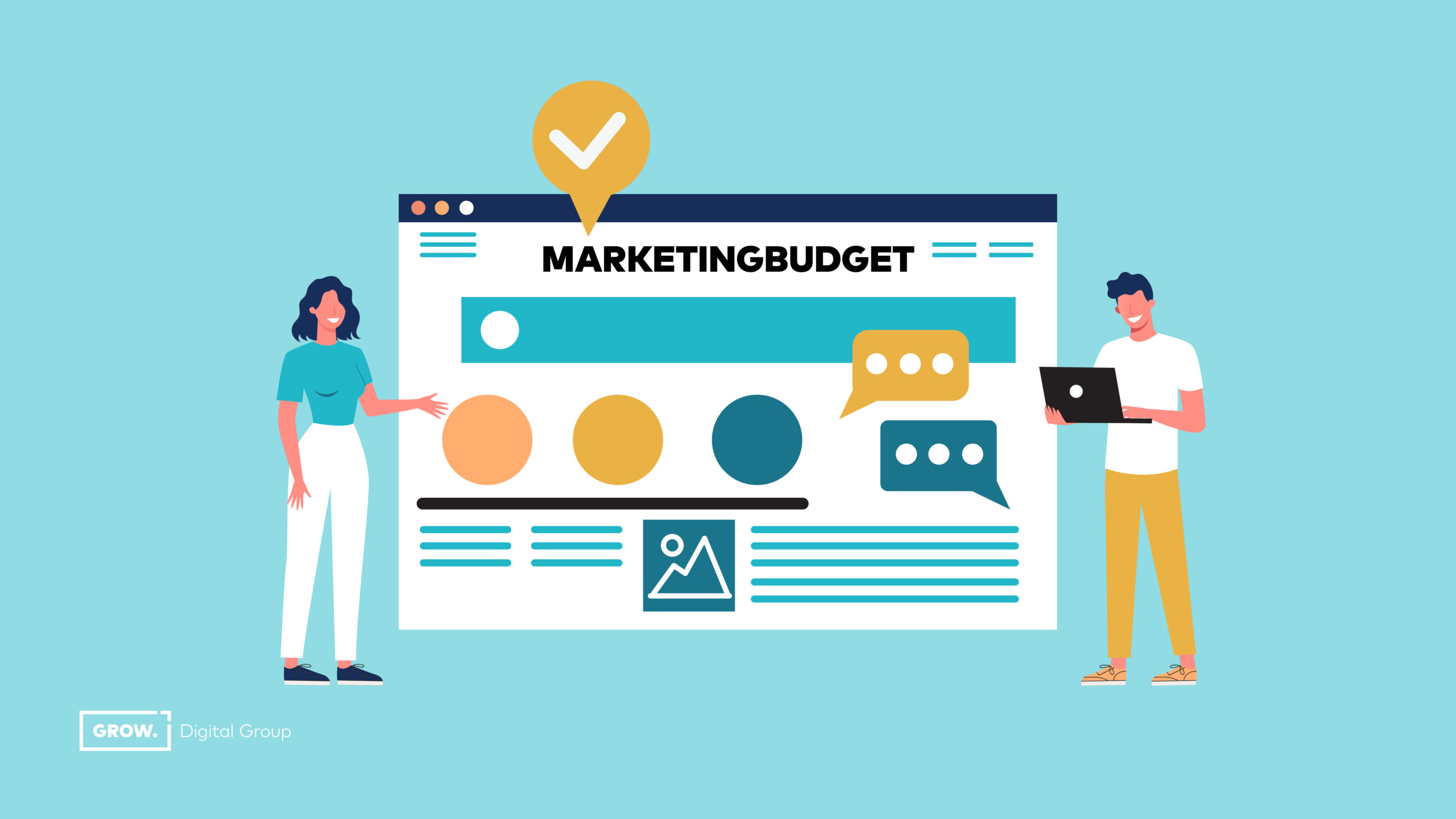 Conclusion & help with urgent questions
Hopefully this article has met your expectations? We would be happy if you give us feedback via the comment function below. Was there anything missing? Were parts too extensive? Feel free to leave a comment below and a rating of the article. This is the only way we can learn what we like and where we need to optimize.
The GROW team now wishes you every success with your budget planning and is always available to help if you have any questions about your budget planning.